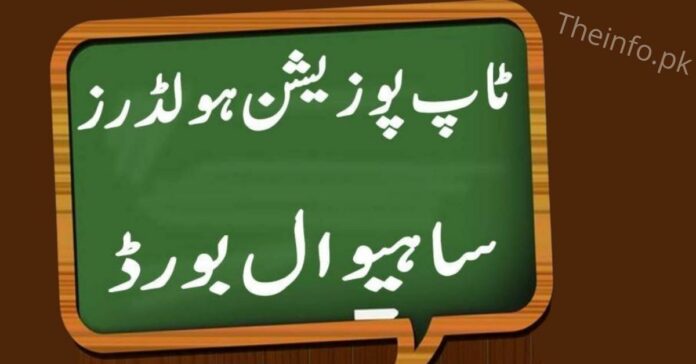 Sahiwal Board Matric Position Holders Result will be announced 2022 Annual Exam for 09 Class and 10 Class.
Annual Examination 2022 Result Gazette for Sahiwal Board matric part 2. BISE Matric Top Position Holders 2022 has been announced as well. You can find the top positions for SSC in Bise Sahiwal.
Sahiwal Board 10 Class Topper List Download Now
You can also check the names of the matric part 2 3rd Position Holders 2022 of BISE Sahiwal.
In addition to the marks obtained by the third top position holder, this website also displays the results. You can ask us questions about the result or position holders through comments.
Sahiwal Board Matric Toppers 2022 (1st, 2nd And 3rd)
BISE Sahiwal Board Matric (10th) Top Position Holders 2022 SSC 2. Each district announced its board topper simultaneously as the overall position holder.
Sahiwal Board Matric Position Holders No.01 Name
In the Sahiwal Board, the top positions are dominated by female students, the 1st position for matric exams is shared by 2 female students, Laiba Iftikhar and Asaawra Gul, with 1089 marks, and Ayesha Nawaz got 2nd position with 1085 marks and third position again shared by three individuals Aleeza Haider, Fatima Asima and Roshan Zahra with 1083 marks.
BISE Sahiwal Top Matric Position Holders No.02 Name
In Sahiwal Board top position was again shared by 2 female students, Ayesha Yaseen and Areeba door, with 1086 marks, Abbas Muhammad Talha and Syed Moeez-ul-Hassan shared 2nd position getting 1085 marks each, and the 4th position was taken by 5 individuals Um-e-Zainab, Maria Amin, Nimra Fatima, Um-e-hani and Aleeza Batool.
Top Position Holders No.03 BISE Sahiwal
Zakria Khalid and Arqam Sahila Waqas got top position with 1088 marks out of 1100, Sara umer came second with 1087 and 3rd position secured by Arooba Tayyab by 1086 in Sahiwal board.