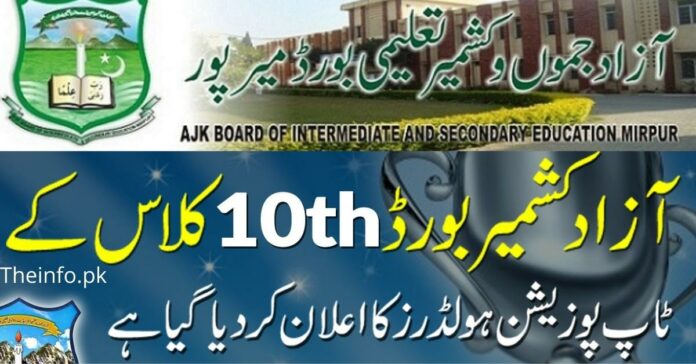 Matric Top Position Holders will be announced on 30 August by AJKBISE, Board of intermediate and secondary education Mirpur. As the teacher was busy in an election during March and April, the matric results were announced on 30 August 2022.
Azad Kashmir Board of Intermediate and Secondary Education announced matric results on 25 July 2022. Punjab Board position holders will be announced one day before the results. Prizes can include laptops or checks for students who get distinctions in exams.
AJK Mirpur Board Matric Top 3 Position Holder List
Congratulations to the top scorers in the Matriculation Exam 2022. Azad Kashmir Matric Top 3 Positions Boys online. Azad Kashmir Board has announced the Matric position holders for 2022.
1st Position Holders AJK Mirpur Board 10Th Result
Roll No:137680
Marks Obtained: 1087 / 1100
Name :ASHIR IMTIAZ
Father's Name:IMTIAZ AHMED
2nd Position Holders AJKBISE Mirpur Board Matric
Roll No: 125414
Marks Obtained: 1086 / 1100
Name: MASUB BASHIR
Father's Name: RAJA BASHIR
3rd Position Holders Name AJK Board Matric Result
Roll No:129007
Marks Obtained: 1085 / 1100
Name: MUHAMMAD ABDULLAH TASAWAR
Father's Name: MUHAMMAD TASAWAR