Hello everyone! How are you? Today I will discuss about  IUB jobs. I will tell you about IUB Jobs in this post. For example, how much is your education, how to apply, how much to pay, etc.
Islamia University Bahawalpur Jobs 2022 Details
The Islamia University of Bahawalpur provides information on government jobs in Pakistan that you might be eligible to apply for. The last day to submit is July 28, 2022. For its many departments, the IUB jobs is now looking for educators who are committed, results-oriented, and active. This is a great opportunity for educators in Pakistan who are searching for teaching jobs and find them available. For more information, visit the IUB website.
For the position of Associate Lecturer, there will be more than 182 openings. If you meet the eligibility requirements, you may apply for the position.
Education Requirements For IUB Jobs
In this IUB job you got a salary of more than 65000۔ In this you study LLB, MS and M.Phil.
Agriculture Engineer Department Bahawalpur Division Jobs 2022
Vacancies Details For IUB Jobs
Posted On: July 13, 2022
Job Type: Punjab Government
Company: Islamia University of Bahawalpur
Location: Bahawalpur
Last Date: 28 July 2022
How To Apply for IUB Jobs
This job is only for Associate Lecturers. If you are interested guys, you can apply Now online at Islamia University in Bahawalpur.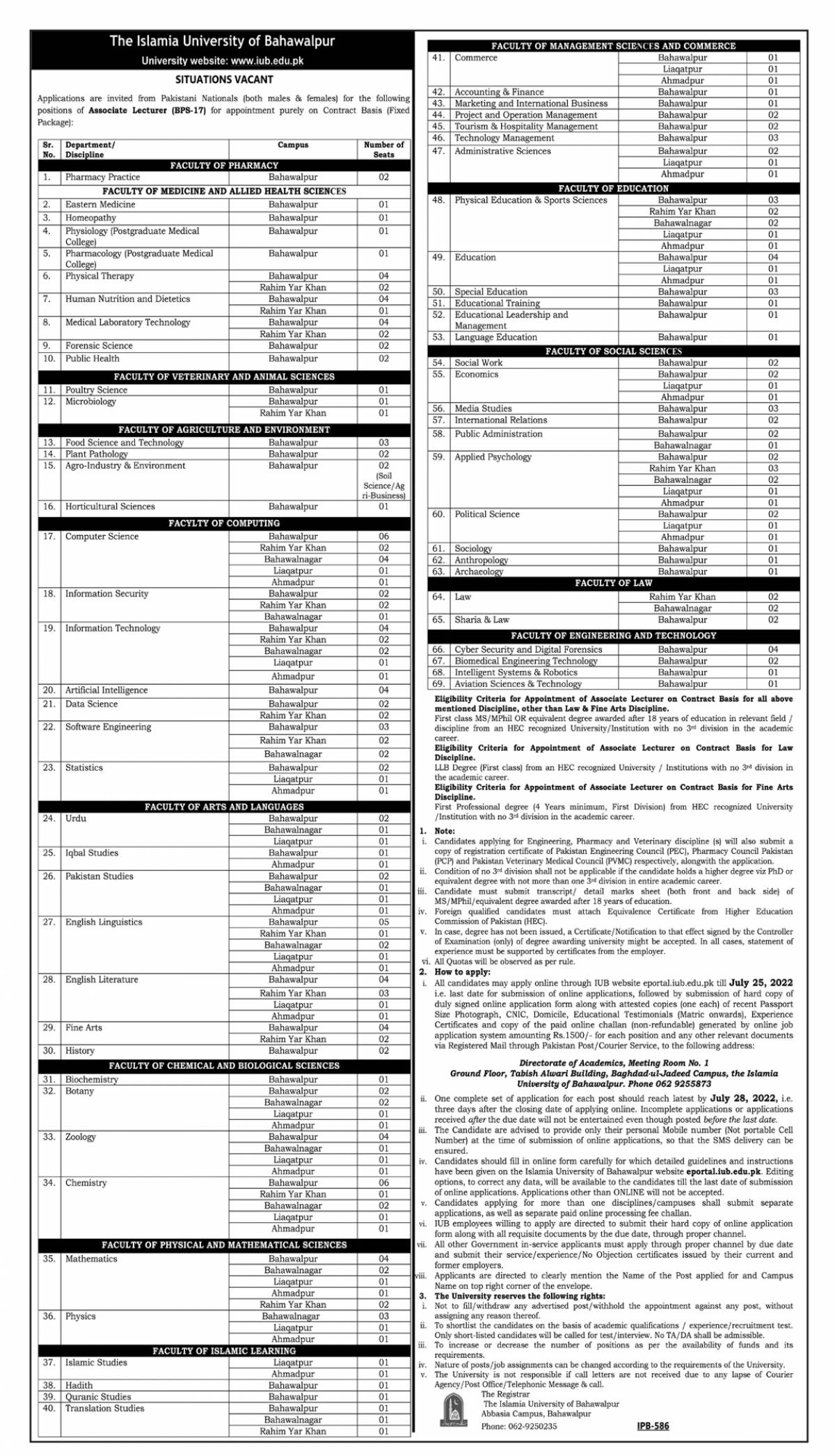 IUB Job Address
Total Jobs: 1 Jobs
Category: Accounting / Finance, Computer, Education, Engineering, HR, Teaching
Location: Bahawalpur
Address: Office of the Deputy Registrar (HR-F) Room No. 104 First Floor, Abbasia Campus, Bahawalpur